Little Lady Curls and i spontaneously took the highway north over the weekend to catch the last hours of the State Fair. . .to be among the people, the domestics, the roving vendors, carnival life, and the agriculture tents. With sentimental tenderness, we drank it all in, cheeks rosy from crisp air scented with wood smoke. . .
fuzzy ducklings, velveteen rabbits, crowing roosters, brand new calves and really big  mama cows, sawdust covered floors, and the fresh, pungent smell of animal life. . .
crafts and arts. . .this one is called the Autumn Angel. . . 

the piggy quilt. . .
blue ribbon watermelons. . .
fine dining (are fried oreos still legal?). . .
the Midway. . .
the candy maze. . .
the vendors. . .
i left my heart in the Fair Trade booth with a young man selling hand made goods from women in developing countries. . .the women had been paid a fair price for their goods. . .i clutched the hand printed linen to my chest and thought about women in far away lands just like me, only harder, as i wound my way past candied peanuts and Ford trucks decorated for Christmas and artisan jewelry. . .in the restroom as i washed my hands at the sink, a woman three sinks down muttered, "The day is just too long."
i looked around. There was no one else there, and so i thought, she must be talking to me. She was dark skinned with tangerine-gold highlights in her straightened hair. . .pretty like autumn. "Do you work here?" i asked, and saw the state fair logo on her shirt.
"I work the taco booth, and i am too tired. i have to stand all day. we cannot sit down."
i listened, gentle with her weariness. "Today is the last day," i said hopefully. But then what will you do, i wondered, when the fair packs up and is gone?
This autumn haired African woman in Virginia and the Nepali woman hand printing linen in a valley overshadowed by the Himalayas. . .you have clutched my heart and abide with me still this cold, rainy morning in fall. . .
Counting the Grace Gifts
#0781 - the gift of being a woman
#0782 - the privilege of raising two women. . .
#0783 - these hands that cook and clean and launder, make up beds, and stroke a beloved brow
#0784 - to know that with Jesus, there is no glass ceiling for women. . .but dignity and respect and freedom. . .
#0785 - the Savior who knocks on my well-fed heart and asks, "What will you do?"
#0786 - the space opening in my heart that will not be satisfied until i know. . .
Counting with the Community at. . .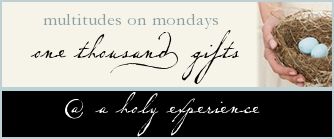 Here is an  inspiring clip of women in Nepal hand printing fabric.  Before viewing, you may want to pause the thoughtful player which will be to your right.